Posts Tagged United States Postal Service
House GOP waiting on Postal Service drop-dead date to move on reform bill
By Bernie Becker - 08/05/12 03:00 PM ET
The House has left Washington without passing a fix to the Postal Service, and Republicans now say they are not likely to bring the issue to the floor until after November's elections.
House Republicans acknowledge that postal reform could be a tough vote for some of their members, with the issue not breaking down as cleanly along ideological lines as subjects such as the Bush-era tax rates the House voted on just before leaving for recess.
But sponsors of the House GOP postal bill suggest another factor at play as well: Lawmakers don't know exactly when the Postal Service might hit a doomsday date when they wouldn't be able to deliver the mail.
With mail volume declining, the Postal Service is currently losing $25 million a day, and recently defaulted on a $5.5 billion payment, earmarked for future retiree benefits, to the U.S. Treasury. The agency has another payment of roughly the same size due at the end of next month, which it also says it won't be able to pay.
But postal officials have added that, at least in the short-term, that default won't affect their ability to deliver the mail and pay their employees. 
And with Congress having a habit of waiting to act until a deadline looms, that could give the House even less incentive to bring the bill to the floor before their members face voters in November. 
Speaker John Boehner (R-Ohio) suggested, in his last news conference before Congress broke for August, that the House had delayed dealing with postal reform because USPS was able to keep its head above water. 
"The postal legislation, there's a lot of conversation about it," Boehner said Thursday. "But, you know, these missed payments are not going to affect the ability of the post office to do its job."
At the same time, senators, who passed a broad postal overhaul more than three months ago, and members of the mailing industry have urged the House to get moving on its bill, so the two chambers can hammer out a compromise agreement. 
But even if the House did find more motivation on postal reform, the chamber is only scheduled to be in session eight days in September, and has other pressing issues like the farm bill and drought relief on its plate as well. 
And while Republicans may want a clearer picture about when a USPS doomsday might occur, other Capitol Hill observers and members of the mailing industry say that could be more difficult than it sounds. 
The Postal Service, they say, has to walk a fine line of sounding the alarm about their fiscal challenges and the need for congressional assistance – all without scaring away potential customers. 
With that in mind, Rep. Dennis Ross (R-Fla.), a key sponsor of the House GOP postal bill, told The Hill last week that he did not think the chamber would take up the measure until the post-election session. 
"I don't like that," said Ross, who is sponsoring postal legislation with House Oversight Committee Chairman Darrell Issa (R-Calif.). "For the sanctity of the institution, we need to act on this thing."
But Ross also said that the Postal Service was not helping encourage a House vote by failing to give members a clearer picture of when the agency could pass a point of no return.
The Postal Service's inspector general, for instance, said in a July memo that it agreed with USPS projections that said the agency could face a shortfall in October and at other points in the 2013 fiscal year. USPS owes more than $1 billion to the Labor Department in October for workers' compensation, a payment it expects to make. 
But David Williams, the inspector general, went on to say that a host of reasons – from changes in the cost of fuel to the global financial outlook – could significantly alter those projections. 
In May 2011, Postmaster General Patrick Donahoe said that the service could face insolvency in October of that year. A month or so later, the agency had pushed that back to July 2012. 
"We know for a fact that they're running out of money," Ross said. "But they won't give us a definite date that this is a drop-dead date when our postmaster says 'I can't afford to sign another paycheck' or 'I can't put another truck on the road.'"
For their part, postal officials say they are being upfront about their cash challenges and that an expected boost from election and holiday-related mail should be able to get them through October. 
Dave Partenheimer, a spokesman for the agency, also hinted at USPS's delicate balance in both being open about their financial problems and not driving away the mailing industry.
"We remain concerned about how these ongoing liquidity issues unnecessarily undermine confidence in the viability of the Postal Service among our customers, which could cause businesses to explore other delivery and communication options, resulting in additional financial pressure on the Postal Service," Partenheimer told The Hill in a statement.
Art Sackler, co-coordinator of the Coalition for a 21st Century Postal Service, said that he had also noticed that USPS had tried to soften its message to potential customers, and that there are a lot of variables at play when trying to predict the agency's financial picture.
"It's hard to see how their message could be any different," said Sackler, whose group represents private-sector companies that use USPS. "I think they're being pretty open about their numbers."
Sackler added that he was concerned that, by pushing postal reform back in to a lame-duck session, the issue could get lost in the shuffle, with Congress expected to concentrate on broad fiscal issues. 
Ross has said that he and Issa have the votes to pass their postal bill. But that vote would force GOP lawmakers in rural areas, where USPS can play a more central role in constituents' lives, to go on the record on a plan that would pave the way for the consolidation of postal operations. 
The bill that passed the Senate in April and the current House proposal have deep differences that would need to be reconciled, on issues like the healthcare prepayments that USPS is defaulting on and how to best downsize the agency's workforce. 
Rep. Gerry Connolly (D-Va.), a House Oversight member, declared that the GOP shouldn't blame the lack of a drop-dead date from the Postal Service for the House not voting on the issue, even as he said USPS should be more open about its fiscal situation.
"We could've fashioned, just like the Senate did, a very reasonable, bipartisan bill," Connolly said.
House GOP waiting on Postal Service drop-dead date to move on reform bill – The Hill's On The Money.
Related articles
Why your mailman could be retiring
By Jennifer Liberto @CNNMoney March 27, 2012: 2:53 PM ET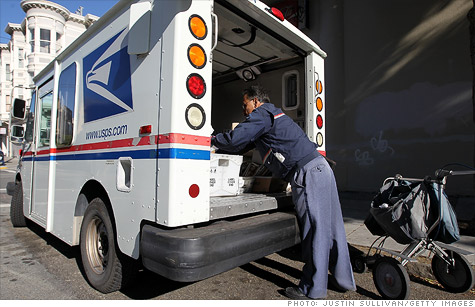 U.S. Postal Service intends to offer incentive packages to woo eligible postal workers to retire.
WASHINGTON (CNNMoney) — Postmaster General Patrick Donahoe said Tuesday that incentives will be offered to woo some of the 150,000 eligible employees to retire.
"We're going to offer incentives as we move from six to five day delivery," Donahoe told a House hearing on Tuesday. "It's critical to move the head count down."
Mass retirement is key to U.S. Postal Service plans to stem its financial bleeding. As the service moves forward on plans to close 223 postal plants, which could mean the loss of 35,000 jobs, it hopes to ease the pain with retirement packages to those who qualify.
More than one out of every four career employees is now able to retire, Donahoe said, and another 100,000 reach retirement eligibility in the next five years.
Donahoe said at the hearing he'd like to winnow down the number of career employees to about 400,000 from a headcount that numbers 551,570, according to the agency.
The recession, declining volume in the type of mail that most Americans use and a congressional mandate to prefund retirement health care benefits have put the service in a bind. The service reported a $5.1 billion loss for the year ended Sept. 30.
The U.S. Postal Service is, by law, an "independent establishment" of the executive branch. The agency doesn't normally use tax dollars for operations, but it has a $12.1 billion loan from Treasury, as of Jan. 31.
U.S. Postal Service officials have not said how generous the retirement packages would be.
A Senate bill to save the Postal Service would tap an overpayment in the Federal Employees Retirement System to fund some $1 to $2 billion in retirement incentives. The Senate was supposed to start debating the bill this week.
In the bill, the Postal Service could offer buyouts of up to $25,000 or, if an employee is nearing the 30-year threshold for full retirement benefits, as much as two years of service.
House Republicans on the Oversight and Government Reform subcommittee urged Donahoe to "right size" the Postal Service's work force more quickly.
"The U.S. Postal Service continues to inadequately respond to Americans' transition to digital communication and the related decline in first-class mail volume, in large part due to an over-sized workforce whose labor costs account for approximately 80% of the Postal Service's operating expenses," said Rep. Dennis Ross, a Florida Republican who heads the panel, in his opening statement.
But Democrats on the panel praised the Postal Service for working with unions, urging it to focus on attrition and avoid layoffs.
Donahoe also talked about the Postal Service plan to move employees off the federal health care plan by offering a new company plan. He said the Postal Service would contract with an insurer such as Blue Cross Blue Shield or UnitedHealth (UNH, Fortune 500) to provide health care.
Donahoe said officials have "tested" the idea, and believe they can provide employee health care at a cost that's $7 billion cheaper a year than the federal government charges. 
 Postal Service chief, at hearing: Retirement packages coming – Mar. 27, 2012.
Related articles